What Corporate America Is Missing When It Comes To Women And Their Rise To The Top
Article by MAP Founder Nichelle Harrison, originally published on GreenvilleBusinessMag.com December 9, 2019.
It's official: the glass ceiling has enough cracks and chips that there are now more women in executive positions than ever before. Commitment to gender diversity has improved significantly. Women have been doing their work by leading the way in educational attainment and making it clear that they want and deserve more within corporate America.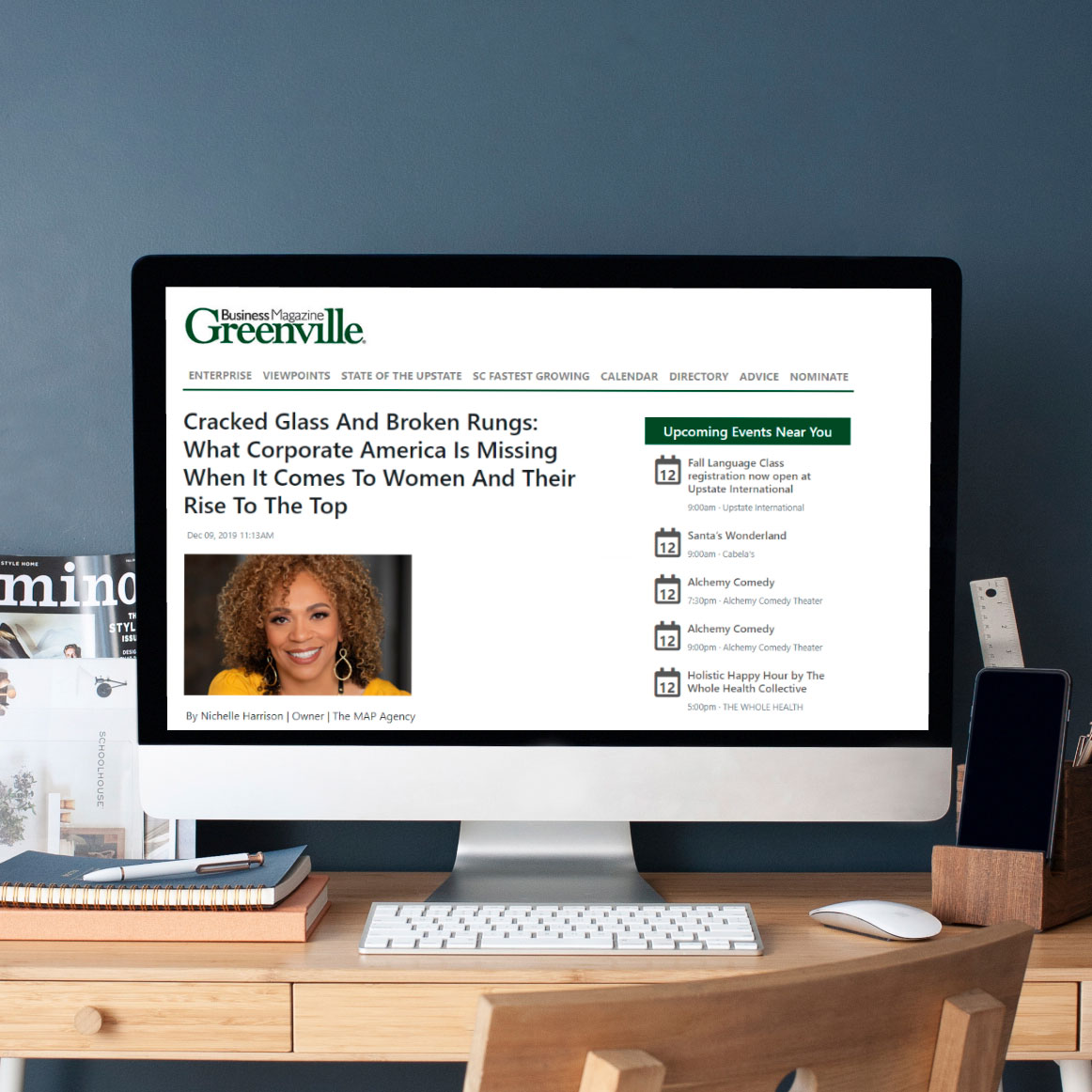 Companies have been focusing diversity efforts in hiring and promotion among the senior ranks, and we are starting to see the results of that. More women are being hired at the director level and above than in past years.
Women in the C-suite have risen to 21%, up from 17% five years ago. Independent organizations have been founded on the principles of honoring and fostering women in leadership. Programs such as the Athena Leadership Awards hosted annually by the Greenville Chamber and the Furman Women's Leadership Institute are great examples of female leadership initiatives.
While we shouldn't hold back on celebrating these improvements, a new study reveals that even if those numbers continue to improve, there's a more pressing problem women face in the workplace, and it starts much earlier in her career.
The largest, most comprehensive study of the state of women in corporate America, Women in the Workplace 2019, found that promotion to first-level manager roles is a "broken rung" that holds women back at all levels within an organization. Even more striking is how many companies are missing this area as a critical point in the trajectory of a woman's career, as
well as the representation of women in leadership positions within their organization.
The joint report authored by McKinsey and Company and LeanIn.org surveyed human resources managers and analysis of pipeline data from 329 companies employing more than 13 million people. Key findings reveal that the first internal promotion to manager or being hired from the outside into a managerial role is often the first and most difficult hurdle for women.
The broken rung data shows that for every 100 men promoted or hired to a manager position, there are 72 women given that first promotion, resulting in women holding just 38% of manager-level positions. The numbers decrease at every subsequent level from there.
The research also shows that HR leaders and employees underestimate just how important that first step up to management is to reaching gender parity in the workforce. HR leaders most commonly pointed to sponsorship as the main obstacle, while employees cited too few qualified women in the pipeline and women being judged by different criteria.
Can the broken rung be repaired? Absolutely. And not only can it be repaired, if companies acknowledge and address it with the sense of urgency it deserves, one million more women will be added to management over the next five years. Why is that number good for business? Companies that value gender diversity, opportunity and fairness for all, and work-life integration see that value reflected not only in the bottom line but also in the form of overall employee satisfaction.
The report outlines several solutions that include setting goals to get more women into first-level management – only about a third of companies set targets for first-level management – as well as requiring a diverse slate of candidates for first-step management hiring and promotions. Consider non-traditional avenues to source and engage candidates that may be outside of your radar.
Although the broken rung is a major barrier for many women in their professional careers, it's important to remember that women are not having a universal experience in the workplace. The intersectional components or lived experiences of different groups of women are unique to that group and must be taken into consideration when coming up with solutions.
At the end of the day, it's about commitment, action and accountability. Your current and future employees are watching and waiting. The landscape has changed. Companies that rise to the challenges and keep up with the momentum will be the ones reaping the rewards of a fully engaged and devoted workforce.